Posts tagged tea party
Survival strategies of Governmentus Omnipotus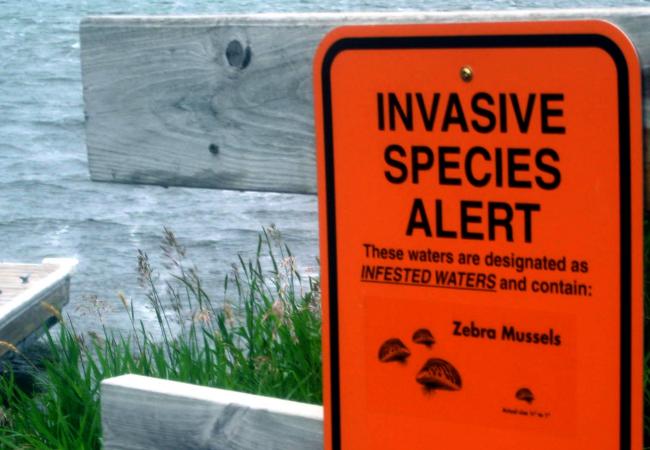 Government, an aggressive and complex multicellular organism, can be found in nearly every region and climate of the planet, including those such as North America where the natural habitat is often inhospitable. In order to thrive in such climates, government has evolved a variety of sophisticated survival strategies. These have enabled it to co-exist with, and often out-compete, other species.
A full examination of these strategies falls beyond the scope of this paper, but a brief summary should suffice to acquaint the lay reader with the more salient ones.
Learned Predator Recognition. Government in the United States has several  highly sophisticated means, from satellite surveillance to warrantless wiretapping, to scrutinize its environment for potential threats, both external and internal. The Nixon administration maintained an enemies list. The administration of President Barack Obama developed an "attack watch" website, and its Department of Homeland Security identified veterans returning from Iraq as potential terrorists. And, like the FBI under President Bush, the Justice Department under Obama trolled through the phone logs of national reporters, seeking out potential weaknesses.
Hypertrophy. Size alone confers distinct advantages in the competition for resources and the battle for survival. It is not surprising, therefore, that government grows at a remarkable rate. Consider public education: In 2009, the cost of a K-12 education, per student, exceeded $151,000 – almost three times the amount, after adjusting for inflation, spent per student in 1970.  The story is the same for social-welfare spending, which has increased 375 percent in constant dollars since 1965. Even the most fearsome apex predators often are daunted by the prospect of confronting such powerful creatures.
Metastasis.Many government operations are able to permeate the bureaucratic lining and spread to other agencies. The federal government alone operates 33 distinct housing-assistance programs across four different agencies, and 49 job-training programs across eight different agencies. This strategy helps ensure that even if one strain of programs dies off, many others will remain.
Alleopathy.In the competition for finite resources, government has developed various means of inhibiting other organisms. Public school systems have become adept at fending off school-choice proposals, for instance. The Internal Revenue Service also has been used as a weapon. The earliest known occurrence of this in the wild was recorded during the administration of Franklin Delano Roosevelt. President Nixon highly favored this tactic as well. More recently, the Obama administration has targeted tea-party groups and other organizations that "criticized the government and sought to educate Americans about the U.S. Constitution," according to published accounts.
Crypsis.The simplest way to evade attack is to avoid being detected. Government therefore has several means of remaining unnoticed – principal among them taxpayer withholding. Through withholding, the government is able to feed its voracious appetite without, in many cases, the host organism's knowledge or awareness.
Thanatosis. Many creatures, including the possum and the hog-nosed snake, feign death to avoid predation. This behavior has been observed in government as well. Programs thought to have been killed off only to spring back to life at a later date include the WWII-era mohair subsidy and the even older federal helium program, originally created to ensure a supply of helium for WWI-era dirigibles. In 2013, The Washington Post reported that the House of Representatives voted overwhelmingly to continue its operations.
Symbiosis. In many cases government programs have developed mutually beneficial relationships with other organisms that help them to ward off attack. Military systems are particularly adept at this survival technique. The F-22 Raptor program involves more than 1,000 contracting companies in 46 states. Military systems have even developed defenses against attacks from other government colonies. In 2010 the U.S. Army conducted a review of MEADS, the Medium Extended Air Defense System, which found it ill-suited to current defense needs. "Current Army position is: Terminate MEADS," the Army wrote. Yet according to a 2013 issue of Government Executive, MEADS "is continuing to receive hundreds of millions of dollars in government funding."
Invasiveness. Constantly seeking out new territory and food sources, government is among the most aggressive of all invasive species. Anti-poverty programs, once designed to ease the plight of the poor, now routinely seek out applicants with incomes of two to four times the federal poverty level. The Affordable Care Act, passed by Congress in 2010, conferred on government the unprecedented power to force Americans to purchase a commercial good independent of any consumer behavior. The U.S. Department of Agriculture proclaims as its goal to "increase participation in the Supplemental Nutrition Assistance Program." To that end it has adopted a variety of strategies, including a partnership with the Mexican government through which Mexican consulates spread the word that resident aliens can apply for U.S. food stamps without having to answer questions about their immigration status. And in 2013, The Washington Post reported on the experience of federal employee Dillie Nerios in Florida: "It is Nerios's job to enroll at least 150 seniors for food stamps each month, a quota she usually exceeds."
CONCLUSION: While a certain amount of government is necessary for the health of any ecosystem, too much can prove devastating. It is important, therefore, to actively monitor and limit government lest it threaten Nature's delicate balance. However, government's aggressiveness and highly developed survival mechanisms will make this an arduous task for the foreseeable future.
Tea Party Test Case
Republicans win when they stay true to conservative principles,  conservatives claim after every Republican defeat. (examples here, here, and here ). As Texas Gov. Rick Perry said at this year's CPAC, ""You need to nominate conservatives if you're going to win elections. You can't do it with moderates or even moderate conservatives. Americans want the real thing."
We'll soon see. Ladies and gentlemen, meet the real thing: Virginia Attorney General Ken Cuccinelli.
Cuccinelli not only disputes climate change. He has challenged the EPA's endangerment finding in court and hounded climatologist Michael Mann over emails.
Cuccinelli not only opposes gay marriage, he considers homosexuality "intrinsically wrong."
He not only opposes tax hikes, he has challenged Virginia's new transporation funding plan, which was championed by the state's Republican governor, Bob McDonnell.
He not only opposes abortion, he equates it with slavery. He not only dislikes Obamacare, he was the first AG to file suit against it.
And the tea party movement treats him like a rock star.
In short, you can't get much more purely orthodox than Cuccinelli on the big conservative hot-button issues. There is not the slightest chance that he will risk losing by moving too far to the center. So, as political analyst Robert Holsworth told the Washington Post, that makes him "almost a test case of the argument that Republicans win when they don't trim their beliefs."
The only flaw in the experiment may be Cuccinelli's opponent: Democrat Terry McAuliffe. In Virginia's last gubernatorial election, McAuliffe came in a distant second in the Democratic primary. He is not, to put it gently, the most formidable candidate the Democrats could field. So if Cuccinelli wins, he may owe part of his victory not to his strong views but to his weak opponent.
Come November, will it be Sauron vs. SpongeBob?
With Lt. Gov. Bill Bolling's announcement this week that he will not make an independent bid for governor, residents of Virginia are left to choose between Republican Ken Cuccinelli and Democrat Terry McAuliffe. Save for some tea party stalwarts and yellow-dog Democrats, few will cast their ballots with unbridled joy. By campaign's end, a lot of voters may think they are choosing between Sauron and SpongeBob Squarepants.
Both candidates have written a book. And while you can't judge a book by its cover, you can tell a lot about a pol by his tome.

Cuccinelli's just came out. "The Last Line of Defense: The New Fight for American Liberty" contains no surprises. It calls the EPA "an agency of mass destruction" and declares the Obama administration "the biggest set of lawbreakers in America." As Cuccinelli told The Times-Dispatch earlier this month, its central theme is all about "first principles" — federalism, the Constitution, the proper limits on government power.
Cuccinelli — who just gave the kickoff address at the Conservative Political Action Conference — has made himself a lightning rod in the Old Dominion by, among other things, attacking two of liberalism's most sacred cows, climate science and abortion rights; by warning that Social Security Numbers are "how they track you"; and by declaring homosexual behavior "intrinsically wrong." His book steers clear of some of those issues, but Democrats won't. (Those positions also overshadow his deviations from right-wing orthodoxy: He is wary of expanding the death penalty, and recently slammed Dominion for exploiting green-energy mandates to the detriment of utility customers.)
McAuliffe's book came out in 2007. "What a Party! My Life Among Democrats" regales the reader with tales of the former DNC chairman's derring-do: raising funds that seemed impossible to raise; rescuing the 2000 Democratic Convention ("the convention had been in trouble and I was brought in to save it"); and, of course, schmoozing with celebs and golfing with his good friend Bill Clinton. The narrative voice is authentically inauthentic, conveying a salesman's bombastic credulity. McAuliffe writes, for instance, that Clinton "got out of bed every morning thinking about how he could give the average Joe a shot at the American Dream."
Cuccinelli's record will give McAuliffe plenty of fodder for negative ads. McAuliffe, by contrast, has little record — because he never has held public office. (When he parachuted into the Democratic gubernatorial primary four years ago, he came in a distant second out of three.) And his antic ebullience may partially disarm critics posing tough questions — some of which McAuliffe does a poor job of answering.
Most of those questions have to do with the way "The Macker" has mingled business and politics to his own great personal gain. E.g., he once made a mint off a Florida development deal in which he invested a measly hundred bucks. A union pension fund invested $40 million — and eventually drew Labor Department disapproval for having done so.
At present McAuliffe is the chairman of GreenTech Automotive, a maker of electric vehicles that is building production facilities in Mississippi. Why not in Virginia — where, McAuliffe says, he wants to create jobs? McAuliffe claims Virginia wasn't interested while Mississippi was willing to pony up. And "I have to go where, obviously, they're going to put incentives."
About that, two points. First, Virginia claims otherwise. Officials at the Virginia Economic Development Partnership tried several times to get straight answers from GreenTech and never could. "We did not receive enough information to respond to GreenTech's business proposal," says a VEDP rep.
Second: Why "obviously"? Virginia consistently ranks as the best or second-best state in the nation to do business, whereas Forbes ranks Mississippi 46th. But McAuliffe is friends with former Mississippi Gov. Haley Barbour, a Republican, who "put the most aggressive [incentive] package on the table for us." Besides, as McAuliffe once told The Washington Post, "Who do you do business with? People you meet in life."
Such wheeling and dealing represents the sort of crony capitalism so many people on both the left and the right have come to abhor. Conservatives deplore the way it facilitates the political allocation of economic goods, to the detriment of fair and open competition in the free market. Progressives despise the privileging of powerful elites who leverage insider connections to get rich through avenues unavailable to working stiffs. Bill Clinton might have wanted to give the average Joe a shot at the American Dream, but Terry McAuliffe seems more keen to wrangle a better-than-average shot.
At one point in his book, McAuliffe says raising money for gubernatorial candidates is easy because "they have all kinds of business to hand out, road contracts, construction jobs, you name it." As governor, whom would McAuliffe hand that business out to — the most qualified, or the most connected? The fear about a Cuccinelli administration is that it would, like Savonarola's, yield a reign of far too many principles far too stridently enforced. The fear about a McAuliffe administration is that it would yield a reign of far too few.
The Tea Party: Driven By 'Harshly Coercive Toilet Training' and 'Anal Eroticism,' Says Unintentionally Hilarious Study
Seriously, here's the abstract.
This has gotta be a spoof. Please, please let this be a spoof. Because, if it's not… .
Every syllable of every word.
Union Violence vs. Tea Party Rhetoric
Remember all the hand-wringing over the angry rhetoric of the Tea Party a couple of years ago? Irresponsible voices even blamed that rhetoric for the Gabby Giffords shooting.
But if violent rhetoric is bad, what about actual violence? Isn't that much, much worse?
(Hint: yes.)